Seville travel guide – Where to eat (part 1) – THE best Tapas bars!
Hola chicos y chicas!!!
This is a long overdue post on Seville (visited last Christmas) – my favourite Spanish city – before moving on to new series on Madrid, Valencia and Malaga (Yup, all-inclusive guides on Spain – Stay tuned, guys!!!).
After the Holy Week and Feria De Abril in April, October is probably the best month to visit Seville. This is when the summer heat, which could rise to above 40C during summer months has subsided to 27-30C while the rest of Europe is heading into the autumn chill. This means, you will still be walking in Tees' & shorts, bathing in ample sun from 8am to 8pm while immersing yourself in some of the most beautiful sceneries and the best culinary experience in Spain.
As a hardcore foodie, I am overly passionate about local foods and make it a mission to #eatlikealocal throughout my travel. I will happily "park" my healthy eating habit on the side and be willing to walk miles on these foreign streets and corners to uncover the most authentic gourmet experiences they have to offer. And in Seville, Spain's and probably world's capital of tapas, I will take you to my best places to eat from breakfast to dinner and snacks.
Let's start
---
 Part 1 – Best tapas bars for lunch & dinner
1. Eslava
This is my absolute favourite, best of the best, which I've recommended to everyone!!! Eslava has a young and contemporary ambiance with rather modern take on tapas. Some of their signature plates have won multiple prizes, crowned by visitors, and can be found nowhere else in the city. The food was so good that I wanted to come back before leaving, walking more than 30mins to find out that they were closed on 26th Dec.
My top picks
Huevo sobre bizcocho de boletus y vino caramelizado/ Slow-cooked egg served on boletus cake with caramelized wine reduction (First Prize "Sevilla en Boca de Todos" 2010)
Cigarro para Becquer – cigar-shaped pastry filled with cuttlefish and algae (Third Prize "Sevilla en Boca de Todos" 2013)
Costilla de cerdo con miel de romero al horno / Roasted pork ribs with rosemary honey glaze
Bonus tip: Eslava also has apartment to rent above the restaurant. Perhaps next time I'll lodge there to ensure my "premium" access to the restaurant 😉
Eslava 5
tel. 954 906 568
Daily: 13.30 – midnight
Closed: Sunday after 5pm & Monday
2. Dos de Mayo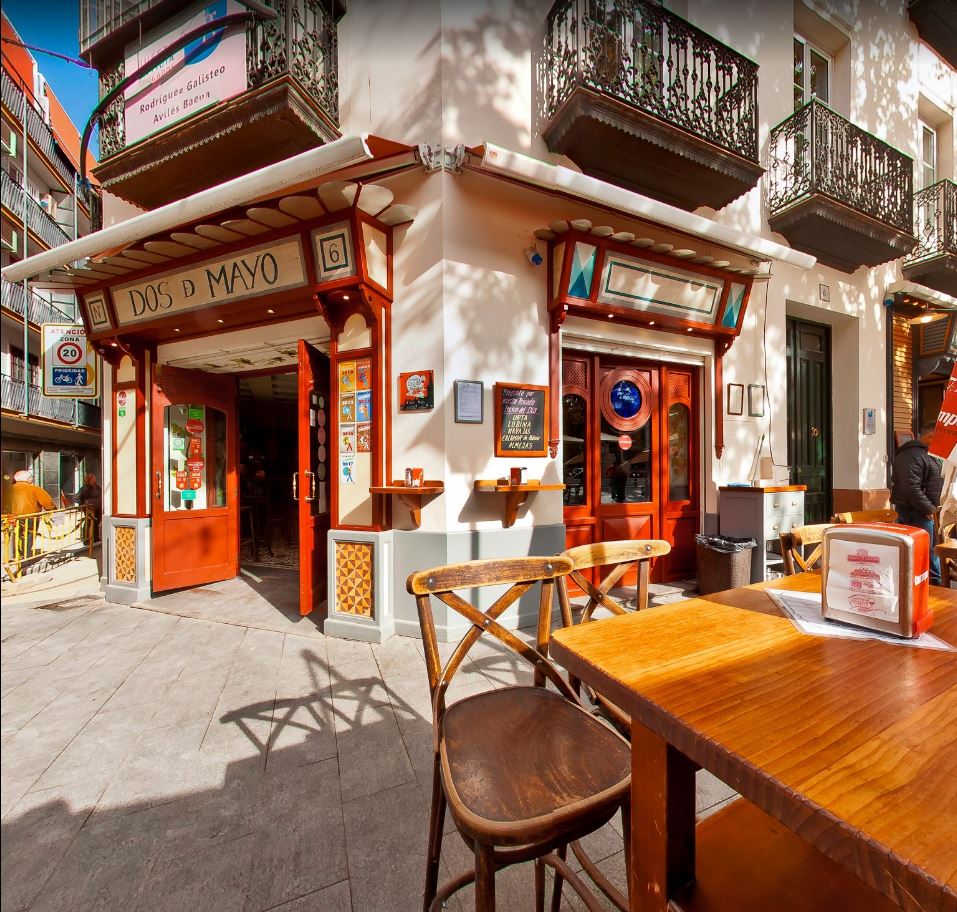 Second on my list is Dos de Mayo – a grand establishment featured in Michelin guide, serving traditional Andalusian-style tapas in a comfortable and friendly atmosphere. It is very large for Spanish standard (160m2 indoor and a huge terrace) with such an extensive menu that, for a moment there, I thought it was a tourist trap. But after a few rounds of tapas from bacalao (cod), mini octopus (pulpo), gambas, solomillo al whiskey (pork loin in whiskey sauce – a "must-try de Sevilla"), some vegetable and those-I-cannot-recall-anymore dishes, shared with another guest from the hostel, I was  happy as a clam. Damage for the night incl. drinks EUR 19.
No photos were taken as we sat outside on the terrace at night.
Photo credit: Google user
Dos de Mayo
Plaza de la Gavidia, 6
Tel. 954 90 86 47
Mon-Thur: 12.30 – 16.30 / 20.00 – midnight
Fri-Sun: 12.30 – midnight
3. Taberna Alvaro Peregil
Just 3 minutes shy from the Cathedral and Alcazar, on the bustling Calle Mateos Gago that is tiled with bars and restaurants, Alvaro Peregil is a true gem. The place has been running for more than a century in the Peregil family, initially as a wine store – no wonder it is beloved for the vino selection. The most popular drink is the sweet sherry-like orange wine (vino de naranja from a little town called Huelva).  If you love wine or simply fancy a drink, this place is a MUST! As for me, I loved everything about it – the small and cozy settings with original tiles and mahogany bar that speak "family heritage", the no-frill food that is  to-the-point on both taste and flavours.
There are two establishments next to each other, the tavern (Taberna) for dining and the wine bar La Goleta, that is more popular for a drink after work or before dinner. Both places are often packed so make sure to come earlier than the locals 😉
My top picks – all-in traditional and Andalusian carnivore – EUR 19
Solomillo al whiskey (again!)
Cola de toro (bulltail stew). It was so good that I ordered 2 portions and even went so far to recreate this in my own kitchen! Not everyone can afford a flight to Seville just for this, you know 😉
Presa Iberica a la plancha – pork loin
Don't forget to pair with the orange wine (vino de naranja, which Peregil is famous for!)

Taberna Alvaro Peregil
Calle Mateos Gago 22
Tel: 954 218 966
Open everyday 13.00 – 17.00 / 20.00 – 00.30
4. Casa Morales – another centuries-old establishment
Founded in 1850, this historic place is still run in the Morales family with a great selection of wines and no-frill traditional tapas. Ancient wooden frames and mahogany interiors gives this house , and yet busy and hectic with the number of guests Always packed with locals and tourists, it undoubted tops many travel sites and food blogs as one of the best in Seville.
This was my first stop on the tapas crawl – straight after check-in in mid afternoon
My top picks – EUR 13
Carrillada iberica – iberian pork cheek stew
Bacalao (breaded cod)
Pringa  sandwich
Solomillo (sirloin) con roquefort
Casa Morales
Calle García de Vinuesa
Tel. 954 22 12 42
Open 12.00 – 16.00 / 20.00 – midnight
Closed Sunday
5. El Rinconcillo – the oldest tapas bar
Founded in 1670, El Rinconcillo is Sevilla's oldest bar. Just for that history alone, I'm 200% sure that this place will show up in every search and Seville guide if you care to scour over internet. The place has two floors, downstairs is the traditional stand-up bar while upstairs hosts larger dining rooms.
I came here for lunch on my last day in Seville, being the first one to show up after their openning at 1am. Soon after, arrived a Chinese tourist from Madrid and a Korean from Barcelona (We Asians love being early and first in the queue, you know ;). In the festive spirit of Christmas, we joined our tables and tasted some of fine selection. If you come here in normal Spanish dining times, do expect full crowds and queues, it's super popular among local and tourists alike.
My top picks – EUR 18
Bacalao a la roteña (Codfish)
Croquetas caseras (Homemade cod croquet if I remember correctly)
Yellow rice in seafood broth
A glass of sherry
In all fairness, the food was good but did not seem to live up to the hype (explaining its 5th place on my list). Or perhaps, their menu was quite extensive and I did not try the finest dishes here yet. If you've been here, let me know your thoughts!

El Rinconcillo
c/ Gerona 40
Tel: 954 223 183
Open 13.00 – midnight
6. Others
There were also other places that I tried or wanted to try but did not make it to the Top Hits or were closed during my visit around Christmas.
Bodeguita de Romero
Calle Harinas, 10, 41001 Sevilla, Spain
tel. 954 229 556
Open: 12:00 – 17:00 / 20:00 – 00:00
Closed: Sunday evening & Monday
Casa Ricardo – one of the oldest bar since 1898
Tel 954 38 97 51
Tue-Sat: 13.00 – 16.30 / 20.00 – midnight
Sun: 13.00 – 15.00 Sunday
Bartolomea – "wine-and-dine" setting with higher price tags – I would probably try if not travelling solo
Tel 955 234 370
Open: 13.00 – 16.00 / 20.30 – 23.30
Closed: Sunday evening and Monday
La Brunilda – another contemporary tapas spot on the higher end
Tel 954 220 481
Open: 13.00 – 16.00 / 20.30 – 23.30
Closed: Sunday evening and Monday
La Azotea – modern setting with both traditional tapas and international foods – operating in 3 locations in town
Tel 955 116 748
Open 13.30 – 16.30 / 20.30 – midnight
---
This list should equip you with enough choices for a full week's stay in Seville. In the next post, I'll be sharing my favourite breakfast places and bakery/patisseries of Seville.
For now, adios en hasta luego!!!
---
---
---